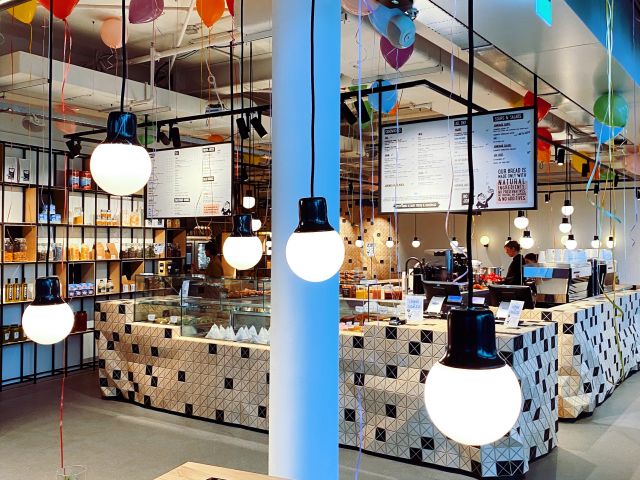 It's a sum of details. As a brand we try to stand-out. Yet it is more important to us that you fit in when you are on your way to wherever, or when you feel like taking a break. Besides serving the food and drinks you love, there are so many things that come into play when creating the right buzz for you. Deep down inside we believe we don't sell food, we sell a moment away. Lebkov is not only good food, it is about a lot of components. It's in the details they say. Read more about the things which we are busy with to make Lebkov more enjoyable!
Interior
Our spacious interior design aims to be timeless, inviting and should be able to provide you both privacy and room to socialize. It's designed by the Paris-based Studio Akkerhuis architects.
Lebkov Radio
Frequently we're asked what music we are playing or which spotify list is on. Problem is, most of our favorites can't be found on Spotify ;-). We have, carefully built, our music collection over the years (and it is still expanding). From this collection we make special playlists for you. Your ears have great taste too!
Lebkov Magazines
We aim to open your mind and think free. Grab one of our international magazines that are waiting for you. It is inspiring to read about good food, architecture or just look at beautiful pictures from around the world while you drink your coffee.
Friendly staff
One of the required skills to work with Lebkov is an easy one. You just have to be a nice person. That's why anyone at Lebkov will serve your food and drinks with a smile. You get what you give, right?
The right ambiance amplifies the moment you're in. That is why when you visit Lebkov, we aim to serve more than homemade goodness. We are continuously on the lookout for new ways to feed the vibe.